As the second-largest school district in the nation, the Los Angeles Unified School District is responsible for over 588,000 students enrolled in K-12, covering a diverse range of neighborhoods and employing over 60,000 individuals striving to deliver high quality education and improve our standards across the board. The vast scale and influence of this school board manifests a self-imposed target for a majority of issues in education to be aimed at. While average graduation rates have been improving, the city continues to battle issues of college preparedness, teacher quality, facility inequities, large class sizes, supporting undocumented students, and large-scale funding cuts, with California as a whole closer to the bottom of the list in national education rankings. This is an epidemic that needs to be addressed urgently and effectively, for the sake of the students, while leaving politics at the door.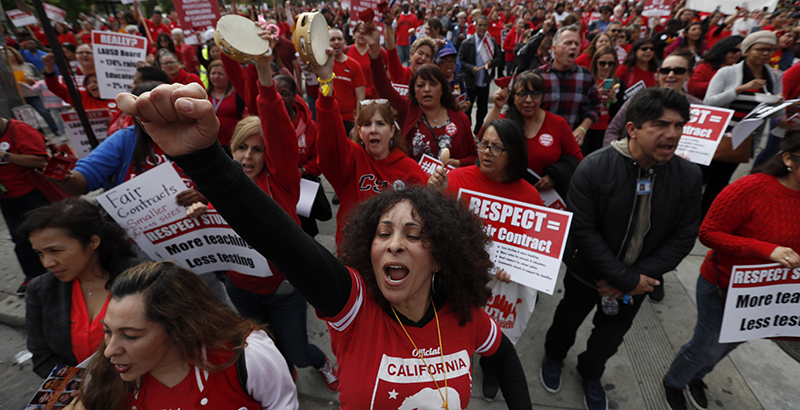 The United Teachers Los Angeles, a powerful union representing over 30,000 teachers, has been fighting hard for higher salaries, smaller class sizes, more staff for libraries and health centers, and regulation of charter schools. On August 31st, an overwhelming 98% of UTLA members voted to authorize a strike if the district fails to offer an acceptable deal, signaling the potential to act on their first strike since 1989.
The core issue between these proposals lies in their funding mechanisms and the dispute over how valid the claims of the district's fiscal dangers are. Months of contract talks have been less than fruitful, symbolizing a larger rift in the relations between union and district leaders, often at the expense of the students. LAUSD Superintendent Austin Beutner has responded to the strike through an op-ed in which he condemns the status quo, boasts his vast outreach to students and teachers across various communities, and announces a remarkable milestone in this fight for educational equity.
Just today, LAUSD drafted a contract which mediates concerns between the school board and the unions, offering a few key items: "fair pay raise for teachers, additional teachers in high-needs schools, teacher pay aligned with student needs, and increased transparency in our labor contracts". Additionally, the district proposes to reduce class sizes by adding more teachers to a number of schools that demonstrate the most need, encouraging STEAM curriculum and student engagement, dual language instruction, early literacy intervention, and increased teacher support.
The school board's leadership certainly wants to avoid a strike from taking place while also navigating their pressing monetary issues and relatively poor academic achievement. Beutner claims that the district's hands are tied since the district gets about 90% of its funding from the state legislature in Sacramento, furthering the necessity to advocate to elected officials for increased funding per enrolled student in Los Angeles and cities all across the state. There is an argument to be made for emphasizing unity and collaboration in this endeavor, broadening this battle to negotiate for more funding for education from the coffers of state legislature. Union leaders don't buy this argument, claiming that the district's history of mismanaging funds do not validate the district's concerns an immediate deficit upon the approval of union demands.
Peter Cunningham, former assistant secretary for communications and outreach under Obama's U.S. Department of Education, shared his concerns over the timing of this potential strike and its dire implications on the students and families that our education system is meant to serve. In his eyes, these negotiations boil down to the issue of money, with unions pressuring a district that is facing bankruptcy and allowing politics to precede student needs.
"UTLA's strike against its very own school district will do nothing to increase money for LA's public schools, but instead will only cause loss of pay for teachers and lost learning time for students. Sadly, the families and children of Los Angeles have the most to lose. A strike puts enormous pressure on working families to find child care or give up precious sick days from work. Kids lose needed learning time. And the fragile partnership among parents, teachers and students is shredded and difficult to repair."

– Peter Cunningham, Executive Director of Education Post
On the other hand, strikes have historically been a visible and effective means of advocating for improved working conditions. They allow for the workers themselves to fight for change and make their voices heard, instead of being drowned out by administrative executives who consistently attempt to centralize power within their own internal decision-making groups. As UTLA President Alex Caputo-Pearl said, "the war over public schools is a class war", referring to the battling ideologies and political rhetoric that has been staining the educational landscape in Los Angeles for years.
Despite tensions built over sixteen months of contract talks, union leaders cannot legally call a strike until they complete the process of mediation with the district. The first date for mediation between union and district leadership is set for tomorrow, September 27th. This will be the first step in a lengthy resolution process to formalize an official contract for LAUSD teachers, hopefully initiating a larger conversation on the sustainability of educational leadership in Los Angeles and the importance of continued negotiations towards improving working standards for our teachers.